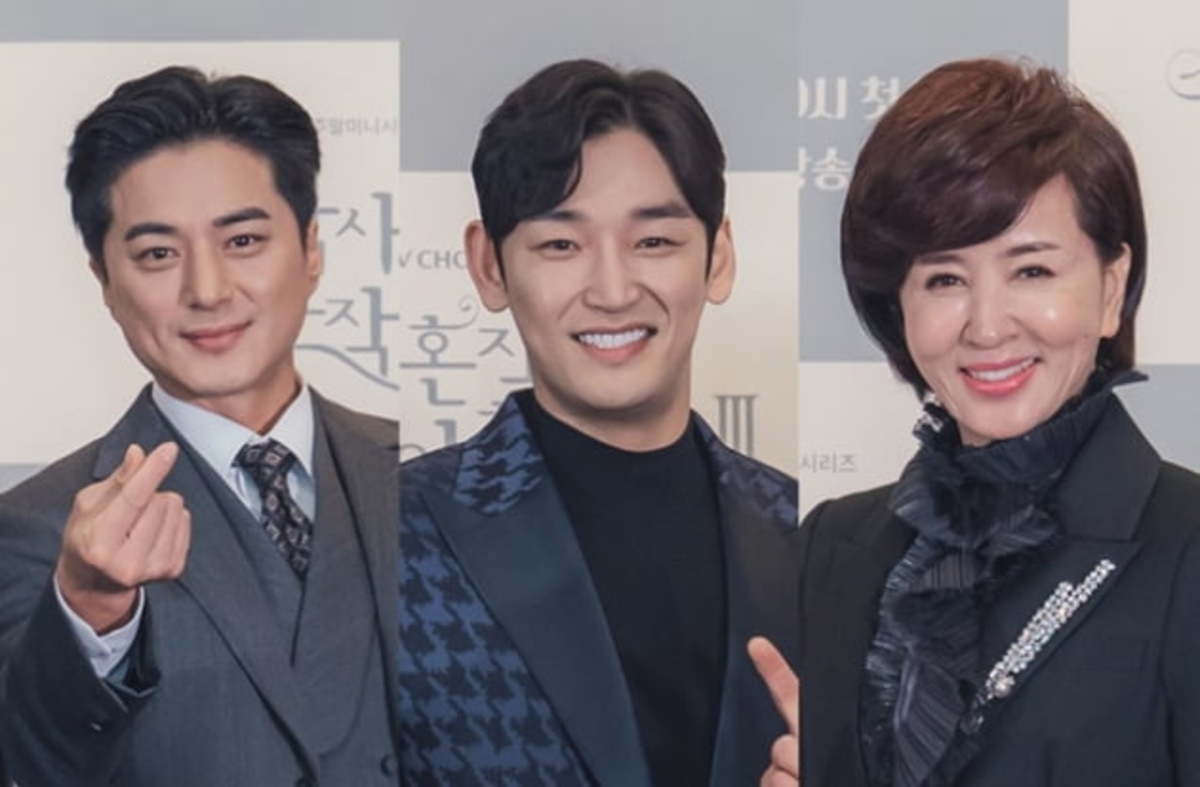 Kang Shin Hyo, Ji Young San, and Lee Hye Sook talked about replacing Sung Hoon, Lee Tae Gon, and Kim Bo Yeon in season three of Love (ft. Marriage and Divorce).
TV Chosun's Love (ft. Marriage and Divorce) 3 helds its online press conference on the 24th. The cast and director Oh Sang Won attended the event. One thing to note about this upcoming show is the new faces. Kang Shin Hyo replaces Sung Hoon as Pan Sa Hyun, Ji Young San replaces Lee Tae Gon as Shin Yoo Shin, and Lee Hye Sook replaces Kim Bo Yeon as Kim Dong Mi.
First, Kang Shin Hyo opened up, "The previous seasons were such a hot topic, so I felt a lot of pressure. But writer Im Sung Han gave me a lot of advice, and I gained strength from my co-stars. Now, the pressure has turned into good motivation."
Ji Young San shared, "It would have been crazy if the actors changed after the season started. But thankfully, we've joined in at the new starting point, so I'm trying to think positively." He continued, "It's true that I feel more pressure as time passes. I was struggling at first, but director Oh Sang Won pulled me aside and told me, 'You're Shin Yoo Shin. Forget what's in the past.' It was like I got a revelation. Now, I have fun filming."
Lastly, Lee Hye Sook said, "For the first time in 40 years, I'm acting a role that was originally played by another actress. Kim Bo Yeon showed an irreplaceable performance. My head clouded with thoughts when I first got the offer to join midway, and I was afraid." She added, "I thought that I could mix my own colors and the range of my acting to the role of Kim Dong Mi. I'm doing my best."
Meanwhile, Love (ft. Marriage and Divorce) 3 will premiere on the 26th at 9 PM KST.
Source (1)
Translator Kim Hoyeun: If you are a fan of K-drama, K-movie, and K-pop, I am your guy. I will continue to provide you with up-to-date K-entertainment news.