JTBC's new weekend drama 'Forecasting Love and Weather' is all ready for its premiere.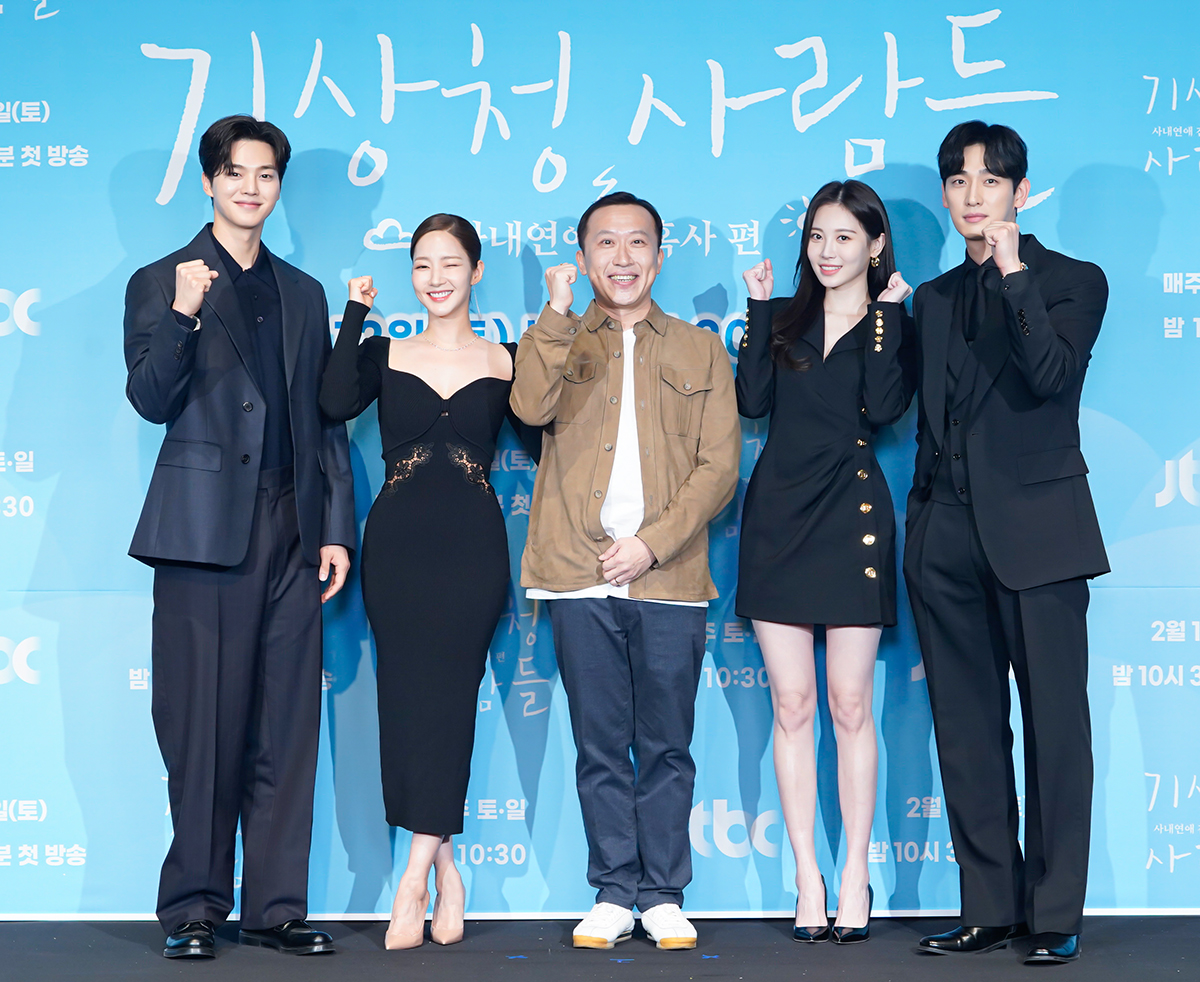 Forecasting Love and Weather is about the work and love lives of the employees at the Korea Meteorological Administration, who are more passionate than tropical heat and more unpredictable than torrential rain. The show held its press conference on the 11th, which director Cha Young Hoon and the cast attended.
First, director Cha introduced Forecasting Love and Weather as "the story of how employees of the KMA grow and understand each other while forecasting and having relationships, and changing to a better people both in love and work."
Park Min Young shared, "The topic of KMA was new. But I regretted (my decision to appear in the drama)." She then laughed and further explained, "There's not much known about them, so I had to build up my character while watching documentaries. It was fun but also a big task. I so boldly jumped into the project, and it became one of the hardest projects I ever did. So it was more rewarding and nice."
Her partner Song Kang introduced his role Si Woo as someone who is "bright and whimsical." The actor added, "He seemed to fit me well. I want to show a more bright and cheerful character in this drama."
Yoon Park said, "(Han Ki Joon) is extremely self-subjective. Objectively, he seems like a bad person. But his intentions are pure. In a way, he could seem more attractive because he's got depth to his character." The actor then added that he had to suffer a hair loss trying to understand his role.
Yura had two auditions before joining the show. Director Moon relayed, "So far, Yura has mostly played strong characters. But when I first met her, she couldn't have been a healthier person with such bright energy. I chose her because I believed that her energy could bring out something new from the others."
Meanwhile, Forecasting Love and Weather will premiere on the 12th at 10:30 PM KST.
Source (1)
Translator Kim Hoyeun: If you are a fan of K-drama, K-movie, and K-pop, I am your guy. I will continue to provide you with up-to-date K-entertainment news.