BTS has wished their fans a happy new year with handwritten letters. And especially the letter by Jimin, who is currently being treated at the hospital, has impressed the worrying fans.
Jimin's heartfelt handwritten letter, released on the 31st, has brought his fans to tears. "I wonder how everyone feels about starting a new year and also worried. We really hope everyone is filled with happiness, but I think everything is not too well yet," the singer wrote.
"I feel a bit bitter that all the moments we spent together crying, laughing, and comforting each other feels like old memories as we start another year," he continued. But I can't just sit and not do anything. I will happily wait since I have a lot of support from everyone, even in this situation."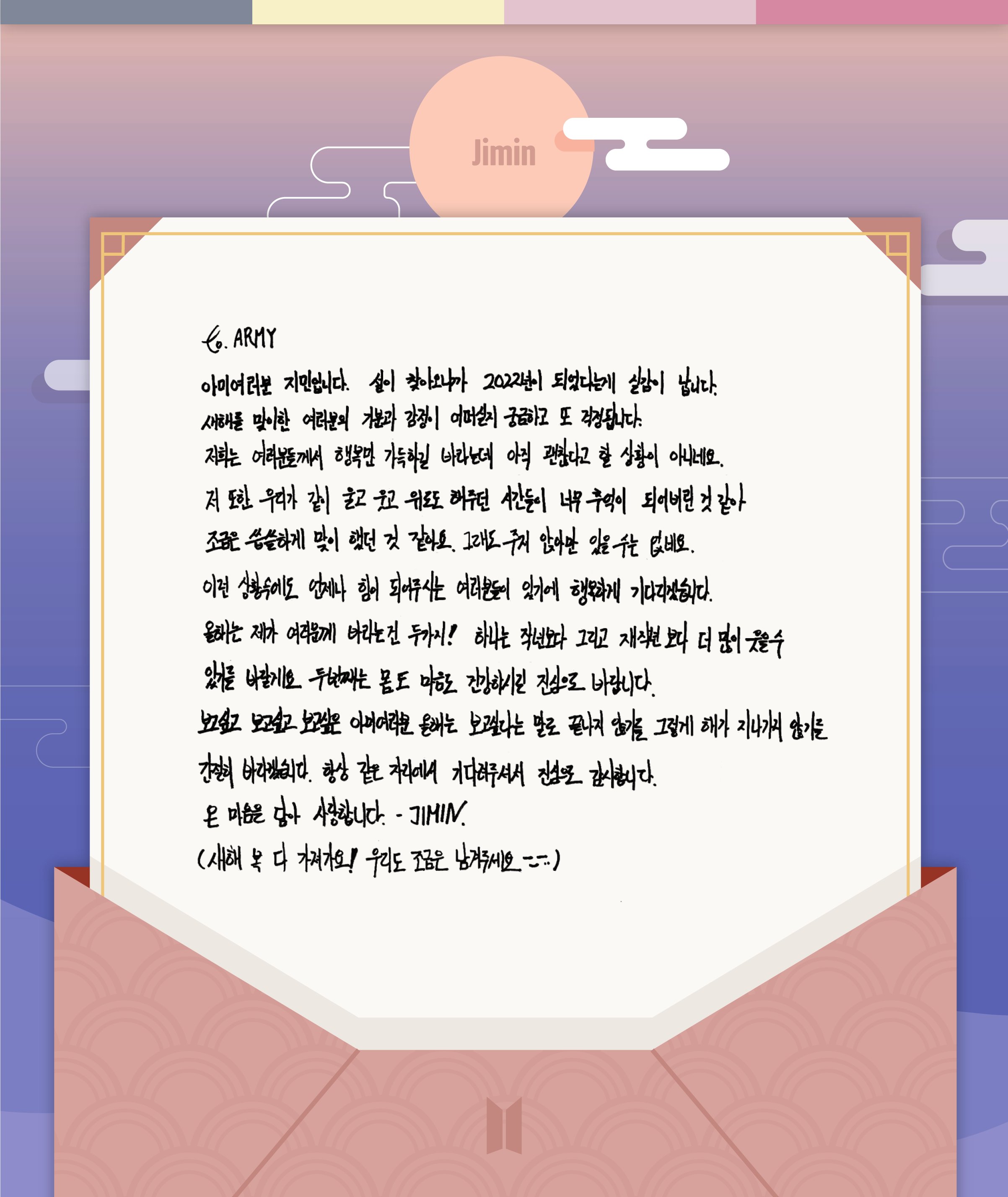 He finished the letter wishing two things from everyone. "First, I want everyone to laugh more than last year and the year before that. Second, I truly wish for everyone to be physically and emotionally healthy," Jimin wrote. "All the ARMY I miss and miss and miss. I really wish this year does not end with me just saying that I miss you. Thank you for always waiting for us in the same spot. I love you with all my heart."
His letter has deeply moved his fans, who had been worried about him recovering from appendicitis surgery and COVID-19. Fans all over the world poured out their support, trending hashtags like "#GetWellSoonJimin" and "#WeLoveYouJimin." Moreover, the post mentioning Jimin reached 1.62 million on Korean Twitter, dominating the Korean real-time trend for two days.
딩동! 💌 아미를 위한 방탄소년단의 정성 가득한 설날 메세지가 도착했어요💜 임인년! 올해도 새해 복 많이 받으시고 행복한 연휴 보내세요 🌕💫

@ https://t.co/WUmHhSWVTI#BTS #방탄소년단 #설날_메세지 #임인년에도_방탄과_함께 #새해_복_많이_많이 #Happy_New_Year pic.twitter.com/WEkmQi38R9

— BTS_official (@bts_bighit) January 31, 2022
Source (1)
Translator Kim Hoyeun: If you are a fan of K-drama, K-movie, and K-pop, I am your guy. I will continue to provide you with up-to-date K-entertainment news.