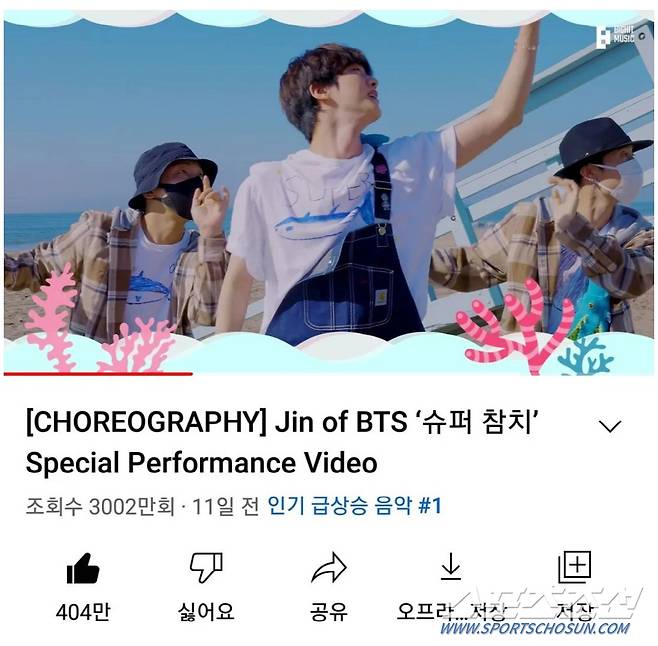 BTS member Jin's solo track "Super Tuna" is breaking popularity records on the internet, garnering over 30 million views on YouTube.
The video is also holding on to the top spot on YouTube's Video Trending Worldwide chart for 11 consecutive days.
In addition, the videos with the hashtag #SuperTuna and #SuperTunaChallenge were viewed by 141 million and 49.8 million users on Tiktok. Moreover, the videos with the hashtag #슈퍼참치 written in Korean have gathered more than 21.4 million views already. Adding the clips with the hashtag the #SuperTunaDanceChallenge, which so far crossed 5.6 million views, the Tiktok videos related to Jin's new song are already seeing a whopping 200 million views in total.
On the 4th, Jin released his fun and easy single on YouTube and his social media to celebrate his birthday with his fans.
Earlier, Jin introduced "Super Tuna" via Naver V LIVE, saying, "I wrote the song and lyrics with my brother on the spot." He added, "I published it to provide you with something to enjoy. I hope you enjoy my video!"
Source (1)
Translator Bomi Heo: Welcome K-pop, K-drama, and K-movie fans! I'll provide you with the latest, reliable Korean entertainment news.