BTS, TXT, and ENHYPEN will star in the original webtoons and web novels to be released in 2022.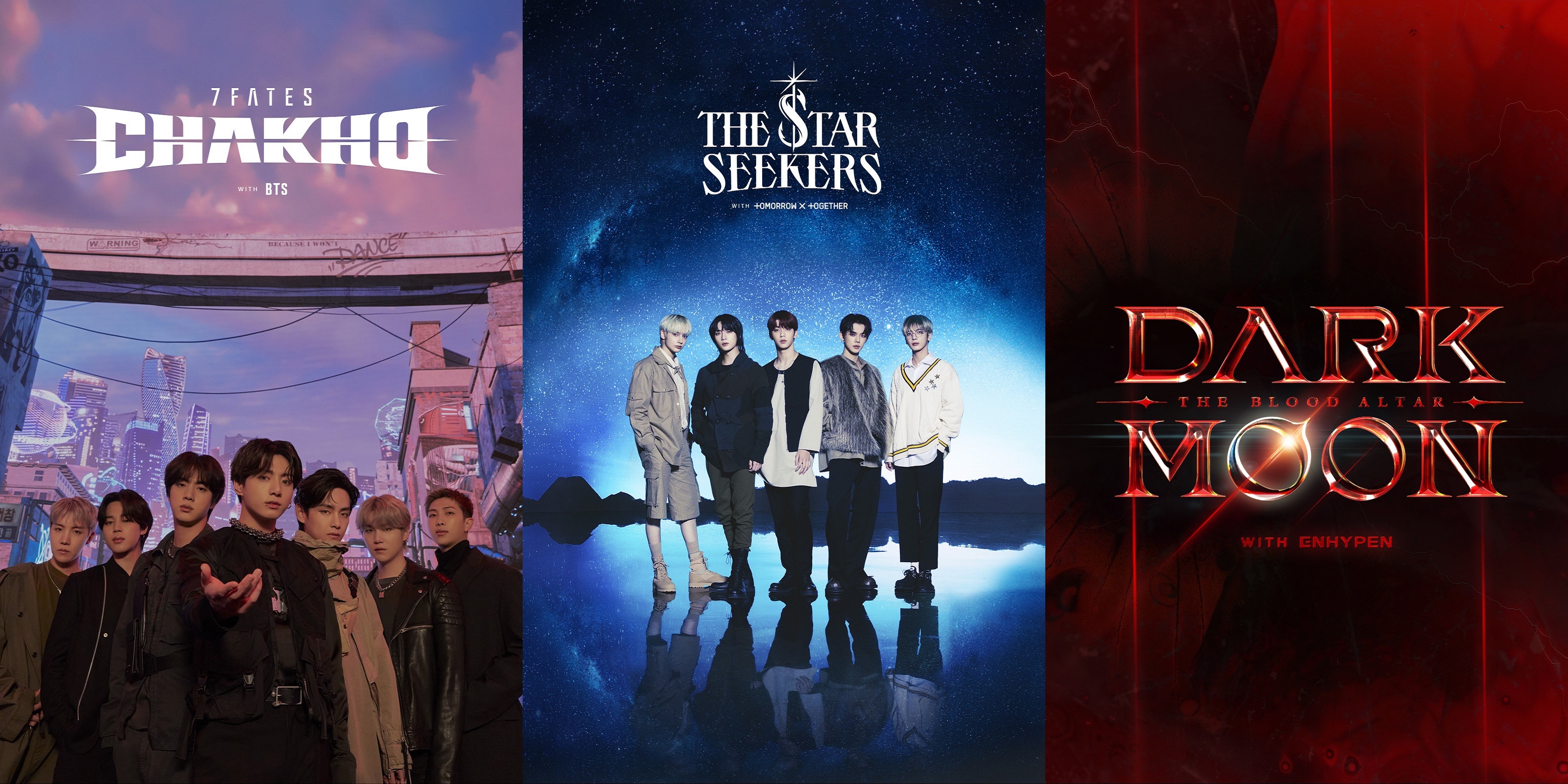 Supercasting, a collaboration project between Naver Webtoon and HYBE, has taken off its veil. These two companies plan to release original webtoons and web novels of BTS, TXT, and ENHYPEN sequentially from January next year.
The first work to start the project is BTS' original story "7Fates: CHAKHO," which will be unveiled for the first time on January 15th, 2022. It's an urban fantasy set in the near future, inspired by the "chakhogapsa," known as the tiger hunters in the Joseon dynasty. Seven young men whose fates are intertwined join forces as they overcome the ordeals and grow up.
7Fates: CHAKHO with BTS#BTS #방탄소년단#7Fates_CHAKHO #7Fates_CHAKHO_HYBE pic.twitter.com/kyBsxKOyRr

— 7Fates: CHAKHO by HYBE (@7Fates_CHAKHO) November 4, 2021
Following the world's biggest boy band is "Dark Moon: The Blood Altar" with ENHYPEN members. The webtoon, set to release on January 16th, will be the first installment in the "Dark Moon" series. It tells a teen romance story that unfolds as seven vampire boys meet a girl with a secret.
Dark Moon: The Blood Altar with ENHYPEN #ENHYPEN #엔하이픈#DarkMoon #DarkMoon_The_Blood_Altar #DarkMoon_HYBE pic.twitter.com/oHYhhUgNda

— Dark Moon by HYBE (@DarkMoon_HYBE) November 4, 2021
Last up is "The Star Seekers," produced in collaboration with TXT. In a world where magic and reality coexist, one idol group awakens their power and fights against the secret that has to do with the end of the world. This fantasy project will be unveiled on January 17th.
The Star Seekers with TOMORROW X TOGETHER
#TXT #TOMORROW_X_TOGETHER #투모로우바이투게더 #TheStarSeekers #TheStarSeekers_HYBE pic.twitter.com/3i2vV9IPDO

— The Star Seekers by HYBE (@THESTARSEEKERS_) November 4, 2021
Meanwhile, the synergy between Naver Webtoon and HYBE showed through the project will sweep the globe. Naver Webtoon CEO Kim Jun Koo shared, "With the collaboration with artists and storytelling content that are receiving the most attention in the global entertainment industry, the IP value of Naver Webtoon has raised its profile. We will do our best to prove the joy and value of webtoons and web-novels once again."
Source (1)
Translator Kim Hoyeun: If you are a fan of K-drama, K-movie, and K-pop, I am your guy. I will continue to provide you with up-to-date K-entertainment news.