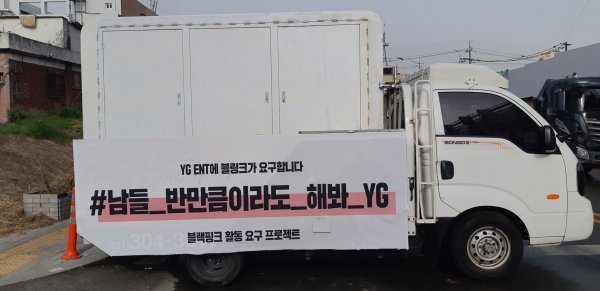 BLACKPINK's fans sent a protest truck to YG Entertainment requesting for an answer.
On May 14th, Blinks officially started a truck advertisement campaign to protest YG Entertainment's treatment of BLACKPINK. The advertisement reads, "Blinks are making a request to YG Entertainment. #Do_half_as_much_as_other_agencies."
The Blinks used hashtags and submitted reports to the press to relay their requests regarding BLACKPINK's activities. Blinks shared, "We held a protest truck event last December, but we have only received a vague reply from YG Entertainment, and nothing has changed. The group has been working hard to release their album early this year, but their comeback date hasn't even been set although the first half of the year is almost over."
Blinks made a strong request to YG Entertainment by saying, "We request them to form a team dedicated to BLACPINK." They also made a variety of other requests including comebacks twice a year with albums that hold a minimum of 6 new tracks, solo projects, use of Youtube channel and production of content, group's appearance on a variety of music shows, and a more active response to rumors and reporting of hate comments.
Source (1)