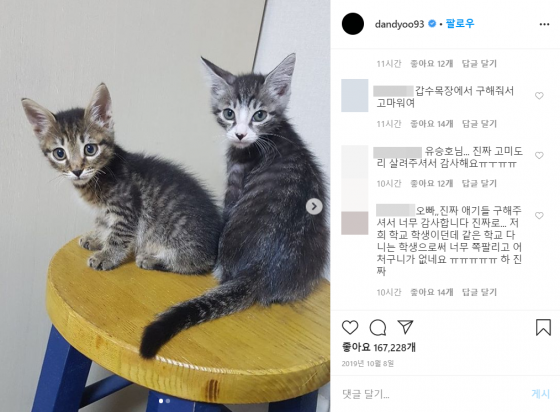 Actor Yoo Seung Ho, who had adopted his cats from a famous Youtuber Gabsupasture, made a statement regarding the Youtuber's animal abuse scandal.
On May 8th, Yoo Seung Ho shared a picture of his adopted cats on his Instagram and wrote, "Many were worried, so I'm writing this after much contemplation. Simba and Gaeul are doing well. I changed Gomi's name to Simba and Dori's name to Gaeul. They both eat a lot, poop a lot, and play a lot. They're doing well."
The actor continued to write,"Gaeul overcame peritonitis too. Pouring love to the animals their whole lives doesn't even come close to being enough. Please don't think of them as a way to make money."
Gabsupasture became popular for being a vet student who loves animals on Youtube and had a following of 500,000 subscribers.
However, it has been reported that the animals that he had claimed to have rescued were bought from pet shops and that he even abused the animals when he was sending them for adoptions.
He even confessed that he starved the kittens and stated, "It's inhumane, but they work after I've starved them. They work because I haven't seen them for a day. I should go somewhere on purpose."
His fellow classmates had revealed Gabsupasture's horrible acts. The Youtube channel that has exposed Gabsupasture stated, "The acquaintance and witness have bravely come forward despite the risks to avoid having future victims. What I can tell you is that we swear on our conscience that this is the truth."
Source (1)